COM's PRLab Takes On Medical Apparel Brand VERDE as a Client
BU's student-run public relations agency helps publicize the company's sustainable scrubs and other healthcare attire
Scrubs are the foundation of a healthcare uniform, meaning there's a huge market ripe for innovation. BU's Chobanian & Avedisian School of Medicine enrolls 1,700 students every year alone, and one fashion brand wants to target this market of new medical students and young doctors and nurses. 
For the fall 2022 semester, the medical apparel and lifestyle brand VERDE enlisted the help of the College of Communication's PRLab, which offers fresh ideas and know-how to reach young adult audiences. By applying classroom knowledge to PR campaigns and communications, the semester-long student-run lab has the chance to greatly impact the nearly two dozen brands and organizations it serves.
PRLab divides its agency into teams of three or four students, known as account executives, to work directly with the client. These account executives are overseen by an account supervisor, who manages the day-to-day execution of the team's tasks and edits and approves all work. 
PRLab student Jiatong (Emma) Li (COM'24) says the experience helped her lay a "great foundation for the future and other internships related to PR and marketing." Another student, Han Chang (COM'24), says the semester taught her the value of teamwork: "When you enter the PR industry, you have to work with team members. It's not like your manager gives you a task and you submit it to them like homework."
VERDE's medical uniform designs blend traditional American sportswear and technical materials, such as Polygiene, which provides antimicrobial protection that enhances hygiene and controls odor. Products are currently sold only online, and their most popular items are scrub tops—which come in long sleeve and short sleeve, with a crew neck or V-neck—and scrub pants, also available as utility joggers and cargo pants. Other popular items include a commuter bag and a backpack, which those outside the healthcare industry can also use.
The company also uses recycled materials and higher-quality fabrics and stitching to ensure the uniforms last long and don't need to be replaced like other scrub brands. "We try to keep a sustainable mindset…from sourcing to making the product and packaging," says Hai Ngo, a VERDE cofounder, who oversees sustainability.
The company's tagline—"a new uniform for daily life"—is meant to make customers realize that they can still showcase their individual style while wearing a uniform. 
VERDE was founded by Scott White and brothers Tony and Hai Ngo. The founders have worked in top US and international fashion houses throughout their careers and run VERDE almost entirely remotely from New York, Tokyo, and Los Angeles, usually meeting on Zoom. "One of the reasons why it works is our personalities really mesh well with each other. We're all very flexible, we're collaborative, and we all try to over-deliver," says Tony Ngo. "I think all of those things help the situation really gel."
Launched in April 2022, VERDE came to PRLab wanting to grow its brand awareness. PRLab helped with projects like social media outreach, through Instagram and TikTok and traditional media outreach to news outlets and magazines. VERDE also wanted to target premed students, so they hosted a PRLab-sponsored event on campus and created a video featuring BU medical students in VERDE scrubs. 
White says VERDE targets not only current healthcare professionals, but also those who are looking to join the industry. "Through internships or residencies, premed students will also wear scrubs or medical apparel," he says. "We're really looking to open up our brand…if they've been a doctor or nurse for 20 years, 10 years, or even those who are looking to become one next year."
The VERDE PRLab team comprises juniors and seniors, and in addition to Li and Han Chang, includes account supervisor Yadira Cabrera (COM'24) and account executives Bonita Chang (COM'23) and Joshua Toledo (COM'23).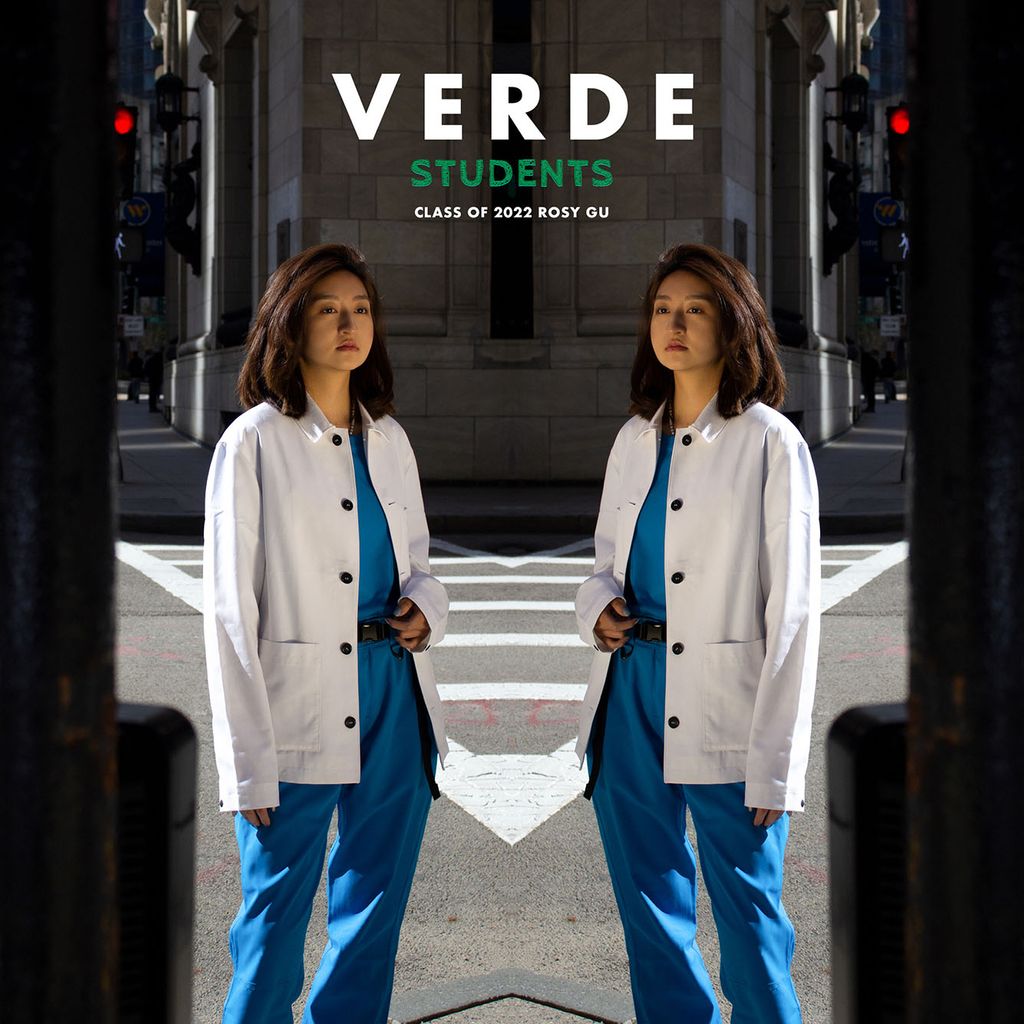 One of the major projects the team worked on this semester was a mass photo shoot featuring student photographers and student models wearing VERDE products on campus and around Boston. After creating this original content, the team launched a #VERDEstudents campaign on social media. Since the campaign began last month, the number of Instagram likes has tripled, followers have increased by 35 percent, and VERDE has reached over 800 accounts, the team says. "The entire photo shoot was facilitated by BU students. The models, the photographers, and everyone on the team. It was a really great experience," says Chang.
In an effort to build brand awareness, the PRLab team also hosted an on-campus event at the George Sherman Union that included a raffle and other giveaways for social media followers and those who subscribed to VERDE's newsletter.
Over the past few months, the PRLab team met three times each week (once after class, once with the VERDE founders, and once for a midweek check-in) and communicated daily through a group chat. While still splitting the workload evenly, team members discovered their strengths and weaknesses as the semester progressed and each led different aspects of each project—such as client communication, organization for the photo shoot, compiling reports and documents, and research, writing, and editing. "Everybody has their own strengths, and I think our team is really good at bringing all of them out and letting all the members shine," Chang says.
About halfway into the semester, the team realized it was challenging to balance content creation and social media posts, while at the same time pitching the company to outside media outlets and influencers. They decided to slow down and prioritize quality over quantity, focusing on certain tasks more than others. 
"When I first joined PRLab, I was treating this experience like a really hardcore internship. I felt like there was no space for mistakes, no room for slipups," Chang says. "I had to take a step back and realize this is a learning experience for everyone, and the power of having empathy is really important in a teamwork setting." Team members say they learned a few other lessons, among them teamwork, staying on top of deadlines, accepting feedback, and understanding how PR works in an agency setting. 
VERDE says it's open to working with PRLab again in the future. "We've been extremely impressed by the professionalism of the students," White says. "We wanted to make sure they were getting real-life, professional experience out of this; we didn't leave anything out, and it wasn't super easy work. I feel confident that the students we worked with this semester will come out of this really set up for their first job."
Author: Shana Singh
Publication: BU Today
Original Article URL: https://www.bu.edu/articles/2022/com-prlab-takes-on-medical-apparel-brand-verde/